---
As the need for the transportation of refrigerated goods keeps growing, shipping industry demands new practical ways to manage the increase in freight. REEFER MAX project was occurred by C&A Stavros Kassidiaris SA's technicians recently giving solution in this transportation.
Specifically, the REEFER MAX project refers to a container ship, that maintains the cargo inside the reefer containers at the appropriate temperature, according to the strict specifications of the charterer. Perishables products such as fruits, meat, fish, vegetables, dairy products, flowers, and medicines are usually transported in refrigerated containers. Special areas in the container vessel hold and on the deck of the ship are equipped with adequate power supply and with sufficient ventilation space for the cooling compressor. These areas are pre-determined before the ship is loaded and are included in the general loading plan followed in each port.
In the beginning of the project
The first stage of the project concerned a family of six 6700 TEU refrigerated container vessels. During the construction and the initial design, the ships were equipped with 1200 additional reefer containers on the deck and in the hold, while after the completion of the project there was an increase of 35% of the total capacity to over 1600 TEU.
First stage of the project
Project planning started with the revision of the electrical plans of the ships, so that the new slots can be connected safely to the electrical network of the ships. All relevant studies, such as load analysis and short circuit calculation, were submitted and approved by the respective classification and certification bodies. According to the ventilation study additional electric fans had to be installed in the cargo hold areas to increase the air supply and provide sufficient ventilation to the increased number of refrigeration units.
Second stage of the project
In the second stage of the project the electrical panels that had already been constructed by our technicians were installed in predetermined parts of the ship, while new cables were installed to connect the old panels with the new ones and the additional reefer sockets. At the same time new ventilators and a new remote-control panel were installed inside the hold, inside the Control Room, giving access to the ship's crew to control the new and old fans remotely.
Refcon system upgrade
After the installation completed, the existing remote monitoring system of the condition of the refrigerators-containers was upgraded, so that the new container-refrigerators can be connected. After the upgrade completion, the crew has access to all information regarding the container – refrigerator, such as port of loading and unloading, temperature curve, etc. This enables the crew to provide – on request — refrigerator information to the container holder about the cargo even in real time.
The completion of the project
The completion of the project accomplished in about 120 days and took place at Zhoushan Xinya Shipyard in China. For the implementation of the task were needed:
75 days for the construction of 80 electrical panel
More than 80km of newly installed power cables (from 3×1.5mm2 to 3x120mm2)
35 days for installation on each vessel at the shipyard
40 employees-technicians per day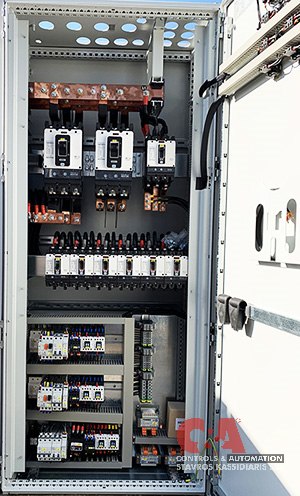 ---